Why Book Subscription Boxes Make the Perfect Gift for Book Lovers?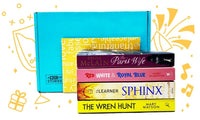 Is it hard to find a gift for book lovers? Not at all. Ask any book worm; all they want are books. So don't you worry about their overflowing shelves; space is just a concept, books are the real deal. And there is nothing better than a book subscription box to ensure a constant influx of captivating stories.
And here are 5 reasons why book subscription boxes are a perfect gift for book lovers.
Table of contents:
Surprise, Surprise!
Discover the Veiled Marvels
Carefully Customised Gift for Book Lovers
Hassle Free and Convenient
Monthly Supply of Happiness
1. Surprise, Surprise!
Who doesn't love surprises? Maybe a truly wretched soul but never a bookworm. And thus these book subscription boxes makes for the ultimate surprise list because you won't even have to rack your brain to select the books; a perfect gift for your loved ones.
And as you unwrap that treasure trove, behold a surprising literary gem waiting for you! 
2. Discover the Veiled Marvels
Subscription boxes are the best gift for book lovers because it helps not just the reader, but also the under-rated writers, a win-win scenario for all. Diverging from the mainstream authors, subscription boxes take extra efforts to bring new and small authors into the limelight. 
And here's why every book lover should be gifted these. Each year, 77 million books don't make the shelves. Even the best ones. Subscription boxes are hence an attempt by A Box of Stories to bring these hidden literary treasures directly into the hands of avid readers. 
3. Carefully Customised Gift for Book Lovers
Book subscription boxes are perfectly tailored according to the reading preferences of the customer. A finely curated set made for all the book lovers. They know what you love and thus the books are handpicked and delivered to you.
Still confused about what makes the perfect gift for book lovers? Look no further, because A Box of Stories is the answer. Every box here is carefully curated with 4 highly rated books to take you on a new bookish adventure.
4. Hassle Free and Convenient
Somedays you are just stuck on which book makes the perfect gift for book lovers because there is so much to choose from. And other days you are just too busy or lazy to hit a bookstore or browse online through loads of books. 1.6bn search results on Google ask 'How to Discover A New Book'.
Go no further because book subscription boxes are here to save you from the hassle. All the brain work is done by them and you get to take the credit. Incredible right?
5. Monthly Supply of Happiness
'You can't buy happiness, but you can buy books'. Thank you to whoever said that because there is nothing more accurate than this. And an added bonus; each time your loved ones receive their monthly book set, they will be reminded of you. So cute, right.
Are you now wondering about the what-ifs of the subscription box? What if you wish to change the delivery date? Or maybe this month there is no time to read a book. Don't you worry because A Box of Stories allows you to cancel your subscription, pause it for a period and allows you to eliminate genres that you don't want.
So without any hesitation, check out the website of A Box of Stories, book a monthly subscription and secure yourself in the good looks of your loved one because there is no better birthday gift for a book lover than a book subscription box.
Unlike many other subscription boxes that include 1 or 2 pre-selected books, we, at A Box of Stories, have an algorithm that curates a unique box entirely for you, so it's always a surprise! Every time you open a box, you will discover an author or a book that you would not have discovered or chosen otherwise. Our system sifts through hundreds of reader reviews to identify the finest books for your gift surprise box.
Don't forget to tell your friends and family about these authors and their stories!
Happy Reading!
Leave a comment (all fields required)
Comments will be approved before showing up.