Unboxing the Box of Stories Mixed Box by SocialBookshelves.com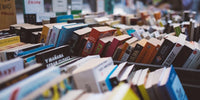 Hi, folks!
Dane here, and today I have something a little special. Let's gloss over the fact that I've finally figured out why my websites have been glitchy and that I'm finally able to upload images to the site again and skip over to the awesome Box of Stories subscription box,which I was asked if I'd be interested in reviewing.
 Available now from ABoxOfStories.com, there are three different options available:
Standard mixed (£14.99): This is the box which I received and which includes both fictionand non-fiction.
Standard fiction (£14.99): This box consists entirely of fiction books.
Crime, mystery and thriller box (£21.99): This box is dedicated to crime, mystery and thriller novels. 
Each 
box
 contains four unique 
books
 and can be purchased as either a one 
of
f gift or as a repeat subscription. Better still, delivery is free!
I also filmed
an unboxing video over on my YouTube channel
, so be sure to click here to check that out or to watch it in the player below. Otherwise, read on to find out a little bit more about the books that I got and what I thought of them.
My first impression of this box is a physical one. I wasn't at home when the box was deliveredand so the postman left it with my neighbours. When I knocked on the door to ask for the parcel, they handed it over and I almost dropped it because of how heavy it was. I'm guessing that they don't normally send their packages recorded delivery as the postage alone was almost as much as they charge for a box.
When I opened it up, I was a little surprised that it comes only with the books. A lot of book boxesthrow in a few extra merch items, which I wasn't expecting here because it's all about the books that they send, but I did expect them to include a letter of some sort. But then, I suppose those letters work best when you get the same books in every box, and they also often feel impersonaland more like marketing materials than anything else.
And besides, it's also cool that the books speak for themselves. Speaking of which, I'll tell you a little bit about each one and then let you know what to expect next.
The Books:
Saboteur by Mark Seaman: This is the only non-fiction book of the four, but it's also the one that I'm most looking forward to getting to. It takes a look at the role of SOEs (Special Operations Executives) with the French resistance in the Second World War, and I'm interested in it for a few reasons. I've always found World War II to be an interesting subject, I'm currently learningFrench and I already know a little bit about the SOEs, who were basically normal people trained to carry out extraordinary acts of sabotage and bravery.
Corpus by Rory Clements: This one is historical fiction and ties in quite well with Saboteur because it's also set around the Second World War, although I believe it's predominantly in the buildup. I read the blurb and it sounded pretty good, but I also deliberately tried to forget it so that I can go in pretty blind.
Exile by James Swallow: This one has a bunch of good blurbs and sounds like a thriller of some sort, but the main thing that stood out to me is that the protagonist is called Marc Dane. I wonder if they picked that one deliberately or if it's just a fun coincidence!
Spare Me the Truth by C J Carver: This one sounds a bit like a cross between a cozy mysteryand a thriller and actually reminded me a bit of Driven, my own book. I've heard of C J Carver before and it sounds like this one will be right up my street, so I'll probably pick this up third after Saboteur and Corpus.
I'll be reviewing the books as and when I get to them, so be sure to follow SocialBookshelves.com on Facebook and Twitter for updates and to subscribe to my BookTube channel if you haven't already. In the meantime, you can also find out more about A Box of Stories by following them on Facebook or Instagram or by heading over to their website for more. Happy reading!


Leave a comment (all fields required)
Comments will be approved before showing up.