The Best Thriller Books of 2020 (So Far)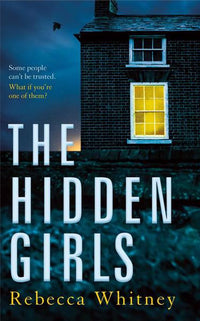 As a brand who cares about the hidden books you might not find on your highstreet bookshelves, we've spent time (and lots of it) searching for the actual best crime mystery and thriller books of 2020. Books which have been loved and highly rated by thriller and crime lovers globally who really do know best. Let's dive into the list!
The Hidden Girls by Rebecca Whitney
Ruth is a new mother dealing with postpartum psychosis. After months of hearing voices, she doesn't trust her own judgement anymore. So when she hears a scream for a nearby petrol station one night, she thinks her mind is playing tricks again. But what if it was real? Someone might be in trouble. What should Ruth do? Read this psychological thriller by British thriller writer Rebecca Whitney to find out her next move...
Black 13 by Adam Handy
Black 13 is the first spy thriller book in Adam Hamdy's new Scott Pearce series. Scott Pearce is an Ex-MI6 agent in exile and might be the only man who can make a difference. The world he lives in is one where radical extremists are rising, and where governments, the military and intelligence agencies are getting outmanoeuvred. 
All borders are breaking down and the people in power are merely puppets for a higher authority. Can he save the world?
A Window Break by C.M. Ewan
What would you do if someone targeted your family in the middle of the night? This story follows a family who goes on a much-needed retreat in the highlands of Scotland after a horrible tragedy. 
When in the dead of night a group of strangers break into the house, the family is forced to make an important choice that will change their lives forever. Long-kept secrets are revealed and relationships transformed while they fight for their survival. Beware, because this one will keep you up all night!
 The Third Rainbow Girl by Emma Copley Eisenberg
This book sets itself in the year 1980, where two girls were murdered when travelling to a peace festival. A farmer in West Virginia gets convicted years later without knowing a serial killer already confessed the crimes. 
Eisenberg takes you deep into the investigation during the case and follows the families involved - this one is sure to keep you gripped from the very start.
The Knock by Jessie Keane
Dora O'Brian struggles with life: pregnant, homeless and at the mercy of a corrupt policeman. Years later, her daughter Angel rapidly has to grow up when things turn out truly murderous. 
For Angel, survival is the only thing that matters now. This is a crime fiction that will leave you shuddering.
The Majesties by Tiffany Tsao
The story begins with a woman who wakes up in a hospital and discovers that her entire family was poisoned by her sister. The tale then flashes back to tell the stories of both sisters, who are part of a wealthy clan of Indo-Chinese tycoons. Both are struggling to find happiness and eventually grow bitter and disappointed in those around them. A perfect tear-it-all-down read!
 Liars Legacy by Taylor Stevens
Liars is the anticipated follow-up novel in Stevens' series about twin assassins Jack and Jill. In this tale, a whirlwind of events happens when the twins head to Berlin to meet their long-lost father. Soon it appears they've fallen into a trap. 
The events that follow will take you on a thrill ride like no other: from a Russian organisation that tries to recruit them to American assassins sent to kill them. Ultimately, they even have to handle being pitted against each other. How will they survive?
Long Bright River by Liz Moore
This novel is set in Philadelphia, where two sisters who have gone different directions in life, come to an impasse. Mickey is a cop and Kacey a criminal junkie. For years, Mickey has tried to put some distance between them and she finally succeeds. Until Kacey disappears…
First Cut by Judy Melinek and T.J. Mitchell
Dr. Jessie Teska is San Francisco's newest medical examiner. What was supposed to be a fresh start turns out to be a nightmare. During an overdose case she discovers something sinister. When more and more corpses appear on her table, she starts uncovering a plot involving drug dealers and some Bitcoin brokers. Jessie won't stop until she has seen it all, even if the next corpse might be hers.
A View To A Kilt by Kaitlin Dunnett
Liss MacCrimmon's, the owner of the Scottish Emporium in Moosetookalook, is ready to make the best of the March Madness Mud Season Sale. Until her husband discovers a dead man on their property who didn't die of natural causes. The body is identified to that of the uncle who died eleven years before Liss was born. What secrets did he have and why would someone kill a man long thought dead?
Uncover 4 new Crime, Mystery & Thriller books when you open our ever-popular Crime, Mystery & Thriller box. Filled with a selection of undiscovered books all rated 4-5* by crime book lovers globally. 

Discover The Best Thriller Books of All Time
Leave a comment (all fields required)
Comments will be approved before showing up.