The ABoS Lockdown Reading List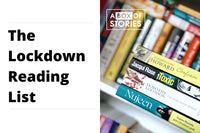 We know that staying indoors all day everyday can get a bit monotonous and boring. There's only that much Netflix you can watch and it's easy for #wfh to blur the lines between work and chill. The day finishes and you realise you got no 'me time', and that's no good. 
So if you're looking for a screen break & been thinking about picking up a book but feeling a bit commitment-phobic to just dive right into a book you may or may not like, we've done some work for you.
Based on popular opinion- after a thorough review of our reader's favourite titles last month we've put together The Lockdown List- a list of 5 books that our readers just couldn't put down so we're certain you're going to love them too!
The List:
A Summer Scandal- Kate French
Summer has never been so scandalous…
When Violet moves to Swallow Beach, she inherits a small Victorian pier with an empty arcade perched on the end of it, and falls in love immediately. She wants nothing more than to rejuvenate it and make it grand again – but how?
When she meets hunky Calvin, inspiration strikes. What if she turned the arcade into an adult-themed arcade full of artisan shops?
Not everyone in the town is happy with the idea, but Violet loves her arcade and business begins to boom. But as tensions worsen and the heat between her and Calvin begins to grow, life at Swallow Beach becomes tricky. Is it worth staying to ride out the storm? And can Violet find her own happy ending before the swallows fly south for the winter?
Sexy, sassy and full of heart, Kat French is back in a new summer sizzler.
The Women In The Castle- Jessica Shattuck
Set at the end of World War II, in a crumbling Bavarian castle that once played host to all of German high society, a powerful and propulsive story of three widows whose lives and fates become intertwined—an affecting, shocking, and ultimately redemptive novel from the author of the New York Times Notable Book The Hazards of Good Breeding.
 Amid the ashes of Nazi Germany's defeat, Marianne von Lingenfels returns to the once-grand castle of her husband's ancestors, an imposing stone fortress now fallen into ruin following years of war. The widow of a resister murdered in the failed July 20, 1944, plot to assassinate Adolf Hitler, Marianne plans to uphold the promise she made to her husband's brave conspirators: to find and protect their wives, her fellow resistance widows.
First Marianne rescues six-year-old Martin, the son of her dearest childhood friend, from a Nazi reeducation home. Together, they make their way across the smoldering wreckage of their homeland to Berlin, where Martin's mother, the beautiful and naive Benita, has fallen into the hands of occupying Red Army soldiers. Then she locates Ania, another resister's wife, and her two boys, now refugees languishing in one of the many camps that house the millions displaced by the war.
As Marianne assembles this makeshift family from the ruins of her husband's resistance movement, she is certain their shared pain and circumstances will hold them together. But she quickly discovers that the black-and-white, highly principled world of her privileged past has become infinitely more complicated, filled with secrets and dark passions that threaten to tear them apart. Eventually, all three women must come to terms with the choices that have defined their lives before, during, and after the war—each with their own unique share of challenges.
Written with the devastating emotional power of The Nightingale, Sarah's Key, and The Light Between Oceans, Jessica Shattuck's evocative and utterly enthralling novel offers a fresh perspective on one of the most tumultuous periods in history. Combining piercing social insight and vivid historical atmosphere, The Women in the Castle is a dramatic yet nuanced portrait of war and its repercussions that explores what it means to survive, love, and, ultimately, to forgive in the wake of unimaginable hardship.
Maggot Moon- Sally Gardner
One hundred very short chapters, told in an utterly original first-person voice, propel readers through a narrative that is by turns gripping and darkly humorous, bleak and chilling, tender and transporting.

What if the football hadn't gone over the wall. On the other side of the wall there is a dark secret. And the devil. And the Moon Man. And the Motherland doesn't want anyone to know. But Standish Treadwell - who has different-colored eyes, who can't read, can't write, Standish Treadwell isn't bright - sees things differently than the rest of the "train-track thinkers." So when Standish and his only friend and neighbor, Hector, make their way to the other side of the wall, they see what the Motherland has been hiding. And it's big... 
Hidden Figures -Margot Lee Shetterly
The #1 New York Times Bestseller. Set amid the civil rights movement, the never-before-told true story of NASA's African-American female mathematicians who played a crucial role in America's space program. Before Neil Armstrong walked on the moon, a group of professionals worked as 'Human Computers', calculating the flight paths that would enable these historic achievements. Among these were a coterie of bright, talented African-American women. Segregated from their white counterparts, these 'coloured computers' used pencil and paper to write the equations that would launch rockets and astronauts, into space. Moving from World War II through NASA's golden age, touching on the civil rights era, the Space Race, the Cold War and the women's rights movement, 'Hidden Figures' interweaves a rich history of mankind's greatest adventure with the intimate stories of five courageous women whose work forever changed the world.
Chilbury Ladies Choir - Jennifer Ryan 
For readers of Lilac Girls and The Nightingale, The Chilbury Ladies' Choir unfolds the struggles, affairs, deceptions, and triumphs of a village choir during World War II.

As England becomes enmeshed in the early days of World War II and the men are away fighting, the women of Chilbury village forge an uncommon bond. They defy the Vicar's stuffy edict to close the choir and instead "carry on singing," resurrecting themselves as the Chilbury Ladies' Choir. We come to know the home-front struggles of five unforgettable choir members: a timid widow devastated when her only son goes to fight; the older daughter of a local scion drawn to a mysterious artist; her younger sister pining over an impossible crush; a Jewish refugee from Czechoslovakia hiding a family secret, and a conniving midwife plotting to outrun her seedy past.
 
An enchanting ensemble story that shuttles from village intrigue to romance to the heartbreaking matters of life and death, Jennifer Ryan's debut novel thrillingly illuminates the true strength of the women on the home front in a village of indomitable spirit.
If you've read any of these books and would like to share your review we'd love to hear from you. Send your review to info@aboxofstories.com and we'll feature it on our website and give you credit plus a shoutout on our social platforms,
Try out our subscription box yet? A super flexible plan that lets you pause whenever you want, choose a plan according to your appetite, and swap genre boxes whenever you want. Try it here.
-------
About Us
A Box of Stories is one of UK's leading Subscription Box websites. Discover new books and authors with the A Box of Stories Subscription Box. Amazing Books all rated 4-5*, delivered one surprise box at a time. Starting from £14.99. Featured on Telegraph, Daily Mail & Time Out London.
4.5 / 5 Rating on Trustpilot
Comments (1 Response)
Leave a comment (all fields required)
Comments will be approved before showing up.