Bookedup Girl reviews A Box Of Stories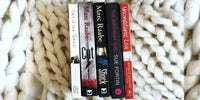 I am on a total mission to find a UK equivalent of Book of the Month and many other amazing book boxes available in the US. This month, I've partnered with A Box of Stories!
What I Love
A Box of Stories is a unique book service that sets out to help you discover new authors and books you might not normally reach for (but all books have fantastic reviews!). They do this by using their secret algorithm that takes into account a number of factors, such as reviews, book forums, web rankings etc to help US uncover hidden gems! There's a number of different boxes you can select, including Mixed Fiction, Summer Reads, Crime Thriller & Mystery etc. See all options
here.
What else? Oh … A Box of Stories also pays it forward and sets aside a portion of their profits for charities working for literacy. To read more about A Box of Stories and their vision, click here.
What was in my box…
And time for the drum roll …

 
My box was a mixed fiction box (+ 1 extra book, there's normally 4!) I've taken a look at the titles on a mixture of online forums/good reads and I've not been disappointed looking at the reviews so far. I've included a few comments based on the research. ALSO, I have just read Cut and see my initial thoughts below.
Cut by Marc Raabe
Good Reads rating: 3.66/5 – My rating 3.5/5
So this was an interesting one, and probably not one I would have picked up, so already A box of stories is winning in terms of helping me discover new authors! It was quite a dark and atmospheric read. There was plenty of suspense to keep me gripped throughout and I really enjoyed that ending! (No spoilers
 :)
)
Unconditional Love by Natalia Aggiano
Good Reads rating: 3.93/5
What people are saying: Interesting take on forgiveness, story of coming to terms with loss and turning your life around post a devastating event.
The Birthday Girl by Sue Fortin
Good Reads rating: 3.88/5
What people are saying: Creepy Thriller!
The Shock by Marc Raabe
Good Reads rating: 3.51/5
What people are saying: Dark and exhilarating psychological thriller.
Out of the Tunnel by Rachel 
Good Reads rating: 3.68/5
What people are saying: Interesting, Heart wrenching memoir of a survivor from the London 7/7 attack.
About Us
A Box of Stories is one of UK's leading Subscription Box websites. Discover new books and authors with the A Box of Stories Subscription Box. Amazing Books all rated 4-5*, delivered one surprise box at a time. Starting from £14.99. Featured on Telegraph, Daily Mail & Time Out London.
4.5 / 5 Rating on Trustpilot
Leave a comment (all fields required)
Comments will be approved before showing up.