Book Review – A Summer Scandal – Kat French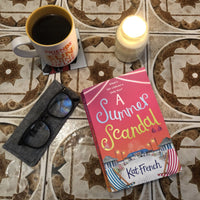 SUZI TENCH
A Summer Scandal – Kat French
This is the first book that I read from my purchase of A Box Of Stories box and I chose it because I really liked the sound of it from the back cover.  I also wanted something light and easy to read to ease myself back into reading books since I've been having difficulty concentrating and reading since starting to take medication for my mental health.
"When Violet inherits a Victorian pier on Swallow Beach from her mysterious grandparents, she falls in love immediately.  All she wants is to make it popular again, and when she meets hunky Calvin, inspiration strikes.  What if she turned the pier into an adult-themed arcade full of artisan shops?

But not everyone in Swallow Beach is happy with the idea.  As tensions worsen and the heat between her and Calvin begins to grow, Violet must make a choice – stay and fight, or turn and run.  Can she find her happy ending before the swallows fly North for the winter?"
This book was the perfect read for me.  It was not too deep, the story was easy to follow and it was light-hearted.  I found that I didn't want to put this down until I had got to the end and finished it in 4 sittings.
The story follows a girl called Violet who inherits an apartment and a pier from her Grandfather, and though her mother knew of the place, and had lived there when she was a child, both her and Violet were unaware that the pier or flat was still in the families possession.  The story unfolds with Violet leaving the town she grew up in, her boyfriend and the life she knew and traveling to Swallow Beach (where the pier and apartment are) and setting up a life there.  Along the way, she learns of her grandparents lives and the secret held by her deceased Grandmother through the discovery of her Grandmother's diary.
This book is really well written and I loved that the book featured love, relationships, disaster, and a plot twist too. The only thing that I was disappointed with was that the book seemed to come to an abrupt conclusion.
This review has been re-published with the permission of the reviewer Suzi Tench. In her words Suzi is a 30 something, colour enthusiast, artist, crafter, diy lover, lifestyle blogger. You can read her blogs here. 
 Try one of our surprise boxes and you may receive this book in your box! 
Leave a comment (all fields required)
Comments will be approved before showing up.