Genre-Specific Delights: Unveiling the Best Crime and Mystery Book Subscription Boxes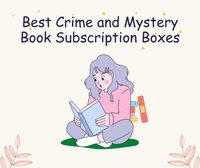 The appeal of book subscription boxes is their ability to tailor to readers' specific tastes and interests. And crime and thriller are the most sought after genres across numerous book subscription boxes, drawing readers into the realms of mystery and danger. No wonder morally-grey characters are the trend now.
TABLE OF CONTENTS:

1. UK Crime Book Club
2. Allure of Crime and Mystery
3. Best Crime Book Subscription Box
    3.1 My Chronicle Book Box
    3.2 A Box of Stories
    3.3 Happily Ever After
    3.4 Bury Me in Books
4. FAQs
5. A Box of Stories Subscription Box
1. UK Crime Book Club
For all the Die-Hard fans of crime (pun intended), this is the perfect opportunity to find people as crazy as you for the crime books. The UK Crime Book Club is a Facebook group with over 25,000 followers, a sanctuary for crime fiction enthusiasts.
2. Allure of Crime and Mystery
For years, readers have been attracted by the enigmatic charm of mystery literature and crime book subscription are the perfect getaway for that. Because so few of us had, or will have, that kind of intimate experience, our interest with crime may arise from a need to understand crime vicariously. It also allows us to analyse the darkest elements of humanity from a safe distance and gives us insight into why other people act the way they do.
3. Best Crime Book Subscription Boxes
Based in Yorkshire, their monthly crime book subscription promises crime and thriller book boxes ranging from cosy crime to gritty crime thrillers, amateur sleuths to experienced detectives, fast paced and action packed to intricate puzzlers. To make it a perfect thoughtful gift, each crime and mystery book box contains a signed hard copy first edition new release, 1 – 3 literary delights plus author exclusive content.
They offer a surprise box of four brand new hand-picked crime, mystery and thriller genre books, all from under-rated authors. If you're looking for new stories that will keep you on the edge of your seat and flipping the pages as you try to figure out what will happen next, this is the box for you. four book box Starting at just £18.99
P.S. A surprise gift awaits you in every third box.
All of the books in our subscription boxes are brand new and have been salvaged from the landfill. This means you acquire new books without negatively impacting the environment. With criminal books by well-known authors such as Harlen Coben and Dean Kootz, as well as mystery thrillers by bestselling authors such as Liane Moriarty and Harriet Tyce, they make the perfect crime book subscription.
They are all about recycling and reusing and therefore, finding gently used books and turning them into book boxes and subscriptions. hey put a lot of effort into selecting great quality second hand books that customers will adore, and their crime & thriller subscription box features some of the best psychological thrillers and scary crime fiction.
Frequently Asked Questions (FAQs)
Question - Who is the biggest selling crime author?
Answer - Agatha Christie, a writer of the "Golden Age of Detective Fiction," became and continues to be the best-selling novelist of all time. Her 66 detective novels and 14 short story collections are her most well-known works.

Question - Why choose Crime Book Subscription?
Answer - There's nothing worse than finishing a fantastic book and having no idea where to go next. Book subscriptions allow you to develop your home library on a budget, with recommendations customised specifically to your preferences. And thus, there will always be new crime books to read.

Question - Which books will be included in the crime and thriller book boxes?
Answer - Books are either handpicked by the subscription box company or a list is generated via technical methods.  Each delivery includes a variety of titles based on your specified genre, ultimately making it a mystery book box.
A Box of Stories Subscription Box
A Box of Stories has an algorithm that curates a unique box entirely for you, so it's always a surprise! Every time you open a box, you will discover an author or a book that you would not have discovered or chosen otherwise. The customer can choose a genre for their subscription box and our stats reveal that crime book subscription are the most sought after.
Here is A Box of Stories Crime Mystery & Thriller Subscription Box 
Happy Reading!
Leave a comment (all fields required)
Comments will be approved before showing up.