7 Book Genres From A Box of Stories You Must Consider For A Book Subscription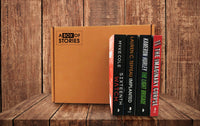 If your search history is often beaming with searches of "best books to read" and you're overwhelmed with the interminable results, don't stress! We've got your back. Whether you're an avid reader, always looking for what books to read next or you're just starting out, you'll certainly feel inclined towards some genres. 
However, as a reader, your innate inclination to discover new worlds through wordy pages can hardly be restricted to one fine niche.But how do we find the best book genres for us to read next? Well, drop your worries to our door and let us drop undiscovered hand-picked literary gems from divergent genres to yours! 
The following are the 7 book genres by A Box of Stories that you must consider to broaden your reading horizons: 
Surprise Subscription Box of 4 Fiction Books 
When it comes to choosing the best fiction books, one can hardly pierce beyond the bestseller's list. However, there exists a whole different world that remains unexplored, undiscovered and may soon be lost forever. The spine-chilling thrillers, the mind-boggling mysteries and heartwarming stories of love that do not make it to the charts, are discovered and saved for you. 
In this box of fictional picks, you will find books from genres of thriller, mystery, romance, historical fiction and beyond loved by readers across the globe.Besides, how can we let you compromise on experiencing the S-factor?A surprise title from an undisclosed genre is passionately packed by our dedicated team, with love, for you! 
When reality appears to be too mundane, dive into the worlds of characters and experience the thrill and adventure of a reader. No wonder why George R.R. Martin said,"A reader lives a thousand lives before he dies . . . The man who never reads lives only one". 
Unveil a box full of adventurous tales with theSurprise Box of 4 Fiction Books by A Box of Stories for your next hunt of new book genres. 
Surprise Subscription Box of 4 Mixed Books 
Often readers are boxed into two categories - those who have an admirably unhealthy addiction to tales of fiction and those who cannot read anything but reality. 
W-O-A-H! ABoS, you did not just say that! 
Well, actually, we did! We even went a step ahead to reinvent a surprise box of books that amalgamates the divergent reading spectrums. 
Now, when you choose a box from the mixed genres, expect an unswerving ride of constant thrill, unanticipated disclosures and an unforgettable experience altogether. Yes, we're still talking about books! 
Fictional books from genres including crime, mystery, thriller, romane, science-fiction, young adult and beyond are handpicked. Three undiscovered gems from these book genres are then packed with one fine book of non-fiction. The latter is also discovered from rigorous searches through reader recommendations and reviews from genres of autobiography, biography, true-crime, memoirs and more. 
Surprise yourself or a dear avid reader today with amixed book box of surprises! 
Crime, Mystery & Thriller - Box of 4 Surprise Books 
Oh, we saw that faint smile of excitement when your eyes reached the words above! 
Despite the wax and wane in the volume of crime fiction, mystery and thriller novels published each year, readers still consider these as their favourite book genres. Surprisingly, authors too, love to send chills down their spines. 
Well, the gratification obtained when the criminal(s) is(are) finally apprehended or the mind-boggling mystery is finally solved, is second to none. A Box of Stories packs a punch of undiscoveredcrime, mystery and thriller novels in this surprise book box of 4. 
Take yourself on an unnerving adventure through the lenses of characters battling the thriller. 
Young Adult - Box of 4 Surprise Books 
When life seems tougher than you thought and solace is hard to track down, a fine character's struggles resembles much of yours. Oftentimes, a Young Adult (YA) novel writer's imagination bestows you with unforgettable experiences of friendships, self-discovery journeys and beyond. Seldom do such cherished experiences feel fictional! 
Cherry-picked from an array of young adult fictions, A Box of Stories curates the most loved titles for you that are often missed by the charts. Find fictional friends from fantasy, history and contemporary YA novels. 
Unwind with relatable characters and their worlds with a set of4 surprise books from the young adult genre.  
Light Reads - Box of 4 Surprise Books 
The light reads book subscription box by A Box of Stories is a collection of alluring tropes from romance, chick-lit, contemporary and historical fiction. Now, how can a reader possibly resist romance! Aren't romance novels the source of our high expectations? 
As long as mankind has existed, tales of love have always made hearts warm and have re-ignited a desire to relive such romances. Whether it's a tale from history or a one from contemporary fiction, light reads truly offer a wholesome experience when even one's browsing for a quick escape. 
Let thelight reads book subscription box be your blind date with four awe-inspiring undiscovered titles. 
PS These guys don't disappoint! 
Science Fiction & Fantasy - Box of 4 Surprise Books 
The elements of mythology, magic and the world beyond are of prime interest to most fiction readers across the globe. 
Then we have the addicts of science fiction who rule the games! 
If you're one of those readers who love to ride light years ahead into space and through the galaxies, this is your ticket to a new journey! Science Fiction and Fantasy novels that are loved and recommended by readers around the world but are missed by the charts, are cautiously curated for you by ABoS! 
Feed your thrill for magical experiences and intergalactic travels with 4 undiscovered books from thescience fiction and fantasy book subscription box. 
Historical Fiction - Box of 4 Surprise Books 
Books that draw their plots from decades and centuries before the present day are fascinating to a wide section of fiction readers. Whether it's an old tale of romance or a trope of warfare from the mediaeval times, historical fiction stays unparalleled. 
A Box of Stories digs through genre reader reviews and recommendations to find undiscovered gems for you. The fascinating storylines and relatable characters despite the unbridgeable intervals of time, make the book genre of historical fiction so popular. 
Take your train to the time behind with4 fascinating stories of historical fiction that may have missed your attention. 
Abandon the trouble of searching for new books and genres to read next with a play, pause and continue-able book subscription to A Box of Stories. Sign up for a year full of surprise reads and save amazing titles from being lost forever. 
Hold on, that's not it! 
Brace yourself for exciting bonuses, surprises and crazy discounts of up to 50% on every third box you receive. Take a break from monotony, read a page, a book or four! 
Leave a comment (all fields required)
Comments will be approved before showing up.