Reading Revolution: How Book Subscriptions are Changing the Way We Consume Literature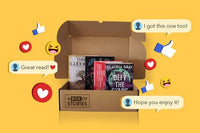 The way we experience literature is undergoing a profound revolution, and book subscriptions are at the forefront of this change. In this blog, we will explore the transformative impact of book subscription services on reading habits, book clubs, and the book sales market
Table of Content:
Introduction
The Surging Popularity of Book Subscription Services
The Book Club Renaissance
Unveiling Hidden Literary Gems
Embracing Diversity through Genre Exploration
Curating Your Personal Reading Journey
The Convenience of Curated Book Deliveries
Embracing the Delight of Monthly Book Deliveries
Experience the Magic of A Box of Stories
1. Introduction 
Join the reading revolution with book subscriptions! Discover top tips on how these services introduce hidden literary gems, encourage exploring various genres, and deliver curated books to your doorstep. Unravel the growth of the book subscription market with research-backed stats and see how A Box of Stories brings a unique touch to your reading resolutions. Read on for an enlightening journey through the world of book clubs,
subscription services,
and the captivating allure of monthly literary adventures.
2. Reading Revolution: The Surging Popularity Of Book Subscription Services

Book subscription services have witnessed exponential growth, catering to the diverse reading tastes of enthusiasts worldwide. Reports indicate that the market has experienced a significant boost in the past few years, making literature more accessible than ever.
3. The Book Club Renaissance

Book clubs have experienced a remarkable resurgence, thanks to the digital age and the accessibility of book subscription services. Readers are coming together to discuss, debate, and celebrate books, fostering a sense of community around literature.

Question - How do book subscription services foster a sense of community around literature among readers?

Answer - Book subscription boxes help people find like-minded individuals to interact with. Join A Box of Stories' vibrant Facebook community of fellow book enthusiasts. Discover new literary treasures, exchange thoughts and share the excitement of your box selections with people who are just as passionate about reading as you.


4. Unveiling Hidden Literary Gems

Book subscriptions have become the gateways to discovering hidden literary gems. Instead of relying solely on bestseller lists, readers can now stumble upon lesser-known yet exceptional books that might have slipped under the radar, introducing you to extraordinary tales you never knew existed.

Question - How do book subscriptions introduce readers to lesser-known books?
Answer - Book subscription boxes such as A Box of Stories, help introduce readers to lesser-known authors and books that possess the power to leave a lasting impact on readers' hearts and minds.



5. Embracing Diversity Through Genre Exploration

Break free from monotonous reading habits. Book subscriptions encourage readers to explore diverse genres, from thrilling mysteries to heartwarming romances, expanding your literary horizons.

Question - In what ways do book subscriptions encourage readers to break free from monotonous reading habits?
Answer - Readers looking to explore different genres? With A Box Of Stories, one has the power to tailor one's subscription. Swap the box at any time—making every box uniquely yours. You can zap out any genres that don't tickle your literary taste buds. While completely optional, you can simply fill out a quick form to avoid any books you'd rather not receive.
6. Curating Your Personal Reading Journey

One of the most appealing aspects of book subscriptions is the personalization. Subscription services, like A Box of Stories, utilize algorithms and reader preferences to curate books that match individual tastes, ensuring a satisfying reading experience.


7. The Convenience Of Curated Book Deliveries

With monthly-bimonthly-quarterly book deliveries through subscription boxes, enjoy the convenience of curated books arriving at your doorstep, ready for you to delve into their pages.

Question - What convenience do readers experience with monthly-bimonthly-quarterly book deliveries through subscription boxes?

Answer - Life can be unpredictable, and that towering TBR pile can feel overwhelming. With A Box Of Stories, you have the power to simply skip a box or change your order date to match your schedule seamlessly.

8. Embracing The Delight Of Monthly Book Deliveries

The joy of receiving a package in the mail is incomparable. Book subscriptions take this delight a step further by delivering a handpicked selection of books directly to your doorstep, making every month a celebration of literature.

Book subscriptions have ushered in a reading revolution, opening doors to unexplored literary treasures and diverse reading experiences. Embracing this modern way of consuming literature can transform your reading resolutions and elevate your love for books.
9. Experience the Magic of A Box of Stories

Unlock the transformative magic of A Box of Stories, a book subscription box like no other. Delight in the thrill of surprise gifts and exclusive savings in every box. Tailor your subscription to suit your reading preferences and enjoy books at your own pace. Immerse yourself in a vibrant book community, exploring customized genres and relishing a reading experience crafted just for you, with no duplicate titles. Let A Box of Stories revolutionize the way you indulge in literature!

Visit A Box of Stories to subscribe and embark on a literary adventure that will redefine the way you experience books!

The reading revolution is here, and book subscriptions are leading the way. Embrace the magic of book clubs, the joy of monthly deliveries, and the thrill of exploring new genres. So, why not make reading resolutions a delightful journey with A Box of Stories, and let the revolution redefine your love for literature.

Happy Reading!
Leave a comment (all fields required)
Comments will be approved before showing up.